ELECTRIC CARS FOR CHILDREN WITH 2 SEATS
Published : 2021-10-20 10:35:06
Categories : Kids Battery Cars
THE 5 BEST ELECTRIC CARS FOR KIDS WITH 2 SEATS
One of the experiences that all children should have during their childhood is to drive one of our 2-seater electric cars for children! These latest generation toys are two-seater children's cars, they are extraordinary , with many extras, very spacious, with robust and super resistant wheels. They are comfortable children's vehicles, with endless details and fun functions, and are ideal for young and old. Discover in this article 3 advantages of buying a two-seater children's electric car and which models are in our own TOP 5 ... Next!
Imagine your little ones driving a large electric car for children in their favorite park , surrounded by their friends, waiting in front of their spectacular vehicle ... Now you can buy them their dream gift! You can buy in our online store the best battery cars for children with 2 seats so that your children can enjoy together a magnificent way of playing and discovering their environment.
WHY BUY AN ELECTRIC CAR FOR TWO SEAT CHILDREN?
Surely you wonder why you should buy your children a two-seater children's car ... Right? Here are THREE great advantages of choosing a two-seater model over a traditional one, with a single seat. By reading them, you will surely agree with us that your little ones will feel happier and more comfortable in a beautiful 2-seater stroller .
ADVANTAGE 1 - 2 SEAT LARGER ELECTRIC KIDS CARS
Two-seater strollers are larger models with higher voltage ; Normally, they are 24v battery cars for children , and have more space so that they can fit two small children, depending on the model, 2-3 years old or 3-4 years old , approximately; They are also suitable for older children up to 8-9 years old . Older children take up more space, so the double seat is perfect for them.
ADVANTAGE 2 - INCREDIBLE EXTRAS AND SUPER FUN
The two-seater electric cars for children have all the possible extras in all their models! In some cases, they have EVA rubber wheels, with anti-puncture technology, and seats finished in semi-leather and padded, which provide greater comfort to the child while driving. In addition, these battery- operated cars for children are made with the highest quality materials and have incredible functions such as headlights, gear lever or button, dashboard with backlit panel, MP3 player, horn, pre-installed music ... And much more! In addition to all this is added the possibility that your little ones can share this great game experience with their little brothers and with their friends , thanks to the two-seater seat of their extraordinary two-seater electric children's car . Playing in company is much more exciting!
ADVANTAGE 3 - FUN SAFE INSURED
These two-seater children's electric cars are excellent for the little ones and adults of the house! With the 2-seater battery cars for boys and girls , fun is guaranteed for young and old. These kids battery cars are amazing, big, sturdy and super original! They have a remote control for parents, so parents can steer the car at any time, for fun or for greater safety of the child, in addition, all models have a seat belt, so the little ones can have fun safe during walks with their parents.
DISCOVER OUR TOP 5 BEST ELECTRIC CARS FOR TWO SEAT CHILDREN
Once you have discovered the 3 advantages of buying 2-seater electric cars for children , we encourage you to surprise your little ones with one of the children's cars from our TOP 5 best two-seater battery cars ... Do not miss its fun extras , next!
This is one of the most popular 2-seat kids battery cars! This Audi Q5 24v is suitable for two small children or an older one up to 9 years old . It is officially licensed by the Audi brand and all its emblems; it is a large and robust stroller, with sturdy EVA rubber wheels, leather and padded seats, incredible features like pre-installed music, real start-up sounds, shock absorbing 4-wheel suspension; It also has a door opening, gear lever, and a luminous display on the dashboard with a charge indicator. This is one of the most elegant and spacious 24v electric car models for children.
This is one of the most powerful two-seater electric cars for children on the market; ideal for children up to 10 years old . It has two 24v motors, each with 55W of power; available in red and blue; It has two seats with leather seats and seat belts, gear lever, pre-installed music, USB slot, bluetooth and light control. It also has real boot sounds! With this two-seater electric car for children , your children can drive on any surface, thanks to its resistant EVA rubber wheels ; It is perfect to enjoy a field trip or to walk on dirt and gravel surfaces, such as parks, in addition, it also has a bluetooth remote for parents. Without a doubt, it is a very eye-catching all-terrain stroller that children love!
Exclusive model for big children up to 8 years old , with great power; It has two 24v motors and 200 watts each and a 24v 7 amp battery. It is a two-seater electric car for children, with the seats finished in leather, it has EVA rubber wheels with 4-wheel suspension, real ignition key, real lights, door opening, real starting sound, mp3 player, key USB / SD and fm radio. In addition, it has a progressive exit function, has Bluetooth, parental control, seat belt and emergency brake.
Toyota Hilux 850 24v two-seater electric car for children , suitable for two children 3-4 years old or a larger one up to 8 years old . This awesome model features amazing extras like LED headlights and taillights, MP3 player, sturdy wheels, fun music and sounds ... It's a very complete, large and robust kids' battery car! It has a fully practicable, very spacious trunk, perfect for transporting toys, boxes, cubes ... It is impressive!
ATAA Predator 24v large and very resistant battery car for children . It works on 24v battery and with 4 powerful motors of 120w each. This children's car has luxury extras such as robust EVA rubber wheels, perfect for driving on any type of terrain, it also features leather seats, door openers, LED lights in front and rear headlights, MP3 player ... AND many more surprises! This 24v two-seater electric children's car is a very popular model that promises great moments of fun for the little ones. It is a very complete and super fun electric car for children!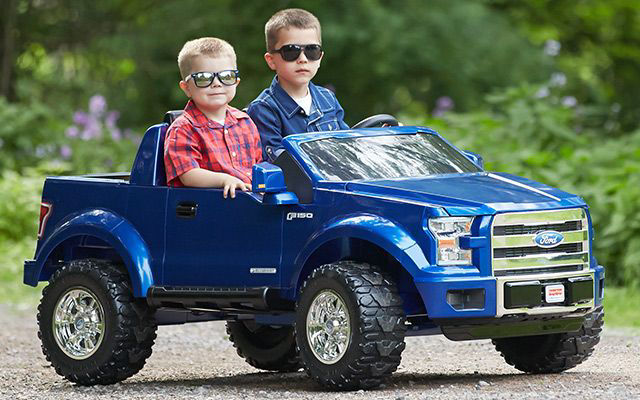 In our online store you can buy the best 2-seater electric cars for children with which your children will have a great time, driving on all types of terrain, listening to their favorite music or sounding the funny horn ... It is a gift incredible that it will not leave you indifferent! The little ones love going out for a walk with their own two-seater children's car and being able to share this experience with all their friends .
Share this content