Buy today and return until January 30, 2024!
THE 3 BEST WOODEN KITCHENS FOR KIDS BLACK FRIDAY 2023
Published : 2023-05-15 15:49:03
Categories : Kids Battery Cars
If you are looking to save money on your Christmas purchases, you cannot miss the super offers for Black Friday 2023 that we are preparing in our online store. Discounts of up to -70% ! We offer a wide selection of high-quality products at incredibly low prices , so you can get the best gifts for your children, grandchildren or nephews/nieces without spending a fortune.
In addition, on our website you will find exclusive offers and special discounts that you will not find anywhere else. Our Customer Service team is always available to help you with any questions you may have.
Do not miss the opportunity to save big on Black Friday 2023 and do your shopping on our website, where you will find everything you need to make your children happy during the Christmas holidays. We will wait for you!
And the most incredible thing, all in one place, only on our website ataacars.com/ .
WHEN IS BLACK FRIDAY 2023?
Black Friday 2023 will be next Friday, November 24 . It is celebrated the day after Thanksgiving in the United States, which is the fourth Thursday in November, and is considered the start of the holiday shopping season.
Black Friday began in the United States in the 1950s, and is believed to have originated in Philadelphia, where it was used to describe the heavy traffic and crowds that lined the streets and stores the day after Thanksgiving. . In the 1960s, the term came into use to refer to the start of the holiday shopping season, and stores began offering deep discounts and special offers to entice shoppers.
Black Friday is an important date on the shopping calendar and has become an important tradition around the world.
WHY GIVE OUR CHILDREN WOODEN KITCHENS AS A GIFT?
Boys and girls play and learn through different activities and toys. One of the most enriching experiences and one that most attracts the attention of the little ones is to play at being cooks. Who has not had a toy kitchen in their childhood? Now with children's wooden kitchens they can have an even more real feeling. They are a toy that promotes learning through play . Your little one will feel like a real chef playing these toy kitchens.
Children's wooden kitchens are a wonderful tool for child development . They have great benefits for the development of their imagination , help them learn and believe, and can play for a long time in a safe and lasting way.
Wooden toys , such as children's wooden kitchens , are made from natural materials, which means they are less likely to contain harmful chemicals. Additionally, wood is a strong and durable material that can withstand years of active play.
WHAT BENEFITS DOES PLAY WITH WOODEN KITCHENS FOR CHILDREN HAVE?
As we mentioned in the previous point, children's wooden kitchens with accessories bring great benefits to our children . Below, we indicate some of the many advantages of giving away a children's kitchen for children on the next Black Friday 2023.
1. Children's wooden kitchens are excellent for fostering creativity and imagination in children . Kids can use the kitchen to simulate the cooking process, just like their dads do, and create a variety of imaginary dishes. By doing this, children are developing imaginative and creative skills that are essential for their growth.
2. In addition to stimulating creativity, playing with children's wooden kitchens also helps children develop motor skills . They can use different kitchen tools, such as toy spoons, forks, and knives, which helps them improve their manual dexterity and hand-eye coordination .
3. Another benefit of children's wooden kitchens is that they can help children develop social and emotional skills . They can play with friends and siblings, learn to share and cooperate , and develop communication skills . These social skills are crucial for the development of our children and will help them throughout their lives. In this way, they learn by playing to do everyday things that will be useful in the future .
Therefore, children's wooden kitchens are an excellent tool for child development . They stimulate creativity and imagination, help little ones develop motor skills, promote social and emotional skills, and are a safe and long-lasting way to play. If you are looking for an educational and fun toy to give your children, consider the option of a children's wooden kitchen with accessories. You will not regret!
THE 3 BEST WOODEN KITCHENS FOR KIDS TO GIFT ON BLACK FRIDAY 2023
Below, we show you a selection of the 3 best wooden kitchens for boys and girls to give away this upcoming Black Friday 2023 .
This children's wooden kitchen is an excellent option to stimulate children's imaginative and creative play. Made with high quality materials and safe for children. Classic design, decorated with non-toxic paint. It has a wide variety of accessories and kitchen utensils that allow children to prepare and serve their own meals, thus promoting their independence and autonomy. Some of them are: wooden spoon, fork, knife, frying pan and saucepan with a plastic lid, imitation of wooden appliances such as a glass oven and microwave with painted buttons. In addition, since it cannot be missing in a kitchen, it includes a sink and stove with regulating controls. It also has a storage space inside the appliances, to store your toys and two shelves. Available in 2 colors: pink and white.
It has been proven that wooden children's kitchens are the quintessential classic toy, which remains a favorite of both boys and girls for decades. This kitchen, in particular, has all the features that our little ones like: fun lights and sounds, real wooden utensils (spatula, spoon and slotted spoon), frying pan with a lid, small plastic saucepan, functional cabinets and shelves, imitation appliances made of wood (fridge, freezer, glass oven with tray inside and microwave, sink). Also decorative elements such as a classic style telephone. Realistic details that make it very attractive to little ones. In addition, it is made of high-quality wood and other non-toxic materials . Available in pink and white. This wooden kitchen for children will stimulate the imagination of your children, encouraging their creativity and imagination.
This children's wooden kitchen is an educational toy that offers children the opportunity to learn and develop practical and cognitive skills , while having fun. Children can prepare their own meals, imitating what they see in their parents' kitchen, which allows them to practice their communication skills, as well as learn about nutrition and healthy habits. Includes numerous kitchen utensils such as wooden fork, spoon and spatula, salt and pepper shaker, 1 saucepan, 1 pot with lid. It also includes a sink (non-functional), imitation wooden appliances such as a microwave, 2-burner stove and an oven with rotary knobs (kids love this). It is made of high quality materials, resistant and stable structure . And one of the characteristics that differentiates them from others is that... it includes a nice apron with drawings!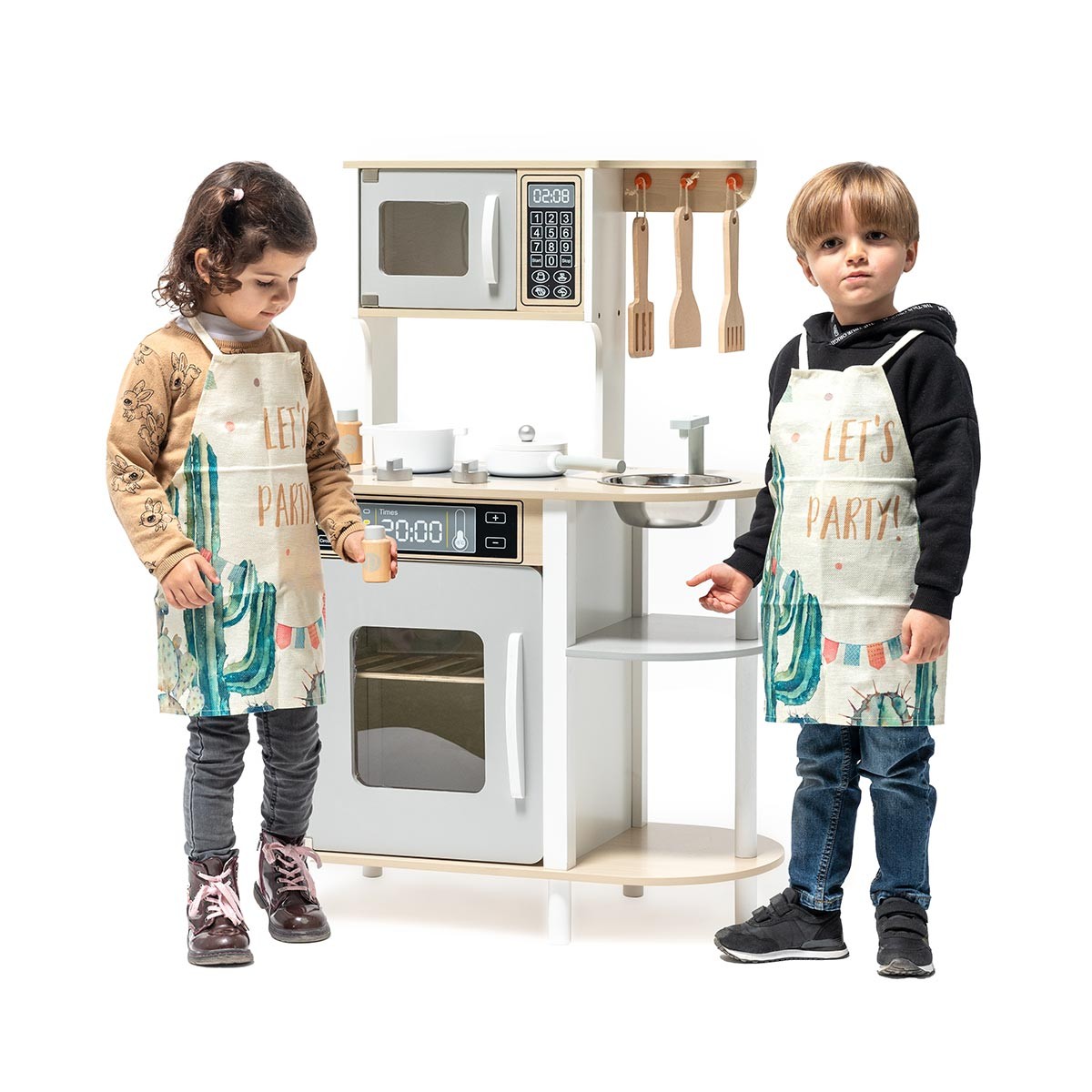 Share this content